News — German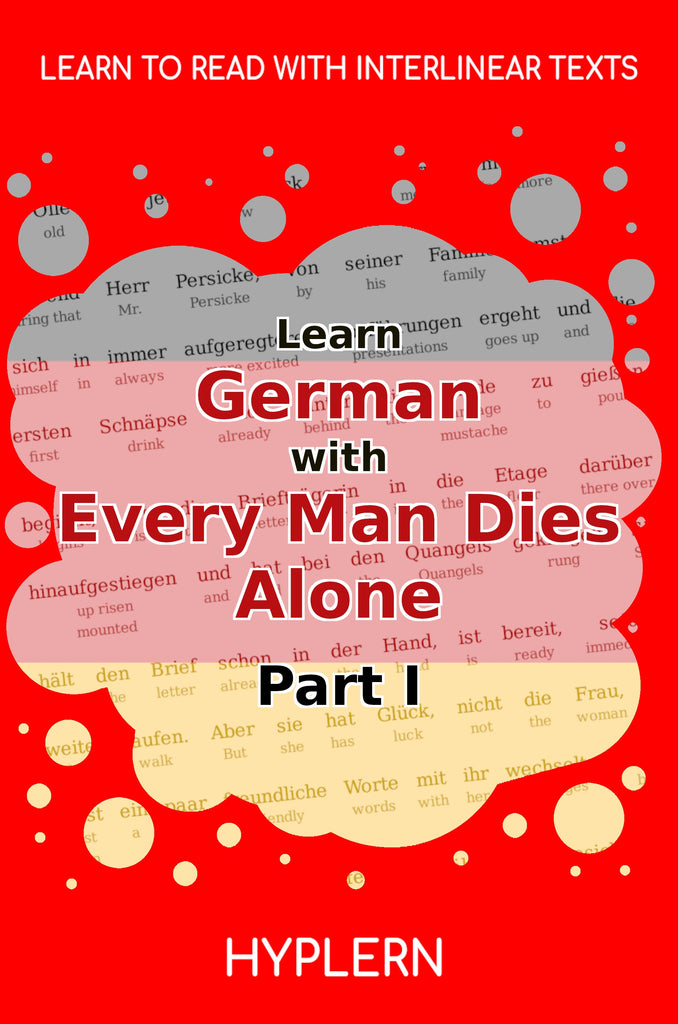 Hans Fallada was one of the most influential German writers of the twentieth-century. His 1947 novel, Every Man Dies Alone, is a revered classic of post-war literature. The story follows two ordinary working class people, Otto and Anna Quangel, in their desperate attempt to resist Nazi rule during the Second World War. Despite its semi-autobiographical nature, Fallada's work has been praised for its gritty realism and unvarnished portrayal of life under fascism. HypLern recently published an interlinear version of this book from German to English. This edition allows readers to easily follow the flow of Fallada's original text while simultaneously...
---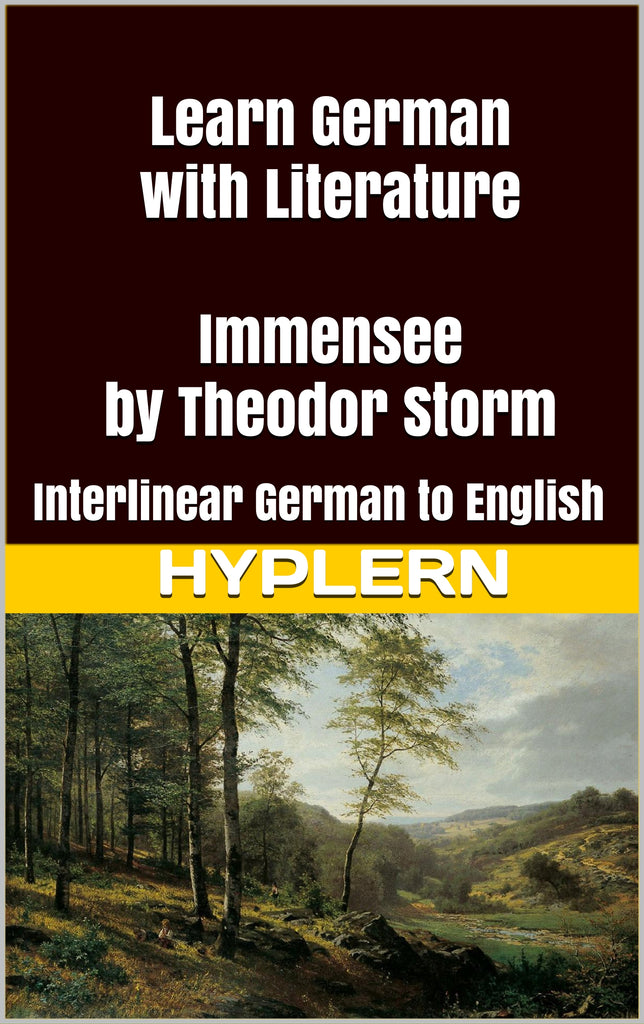 Theodor Storm is a 19th century German author known for his short stories and novels. One of his most beloved works is "Immensee", a novella set in the windswept landscapes of Schleswig-Holstein. The story follows an old man, Reinhard Werner, who dedicated his life to gathering old stories and songs, and is interspersed with flashbacks on his life and the love of his life. He left the girl he grew up with, Elisabeth, to study in the city and work on his collection of stories and told her to wait for him. But his life as a student and his...
---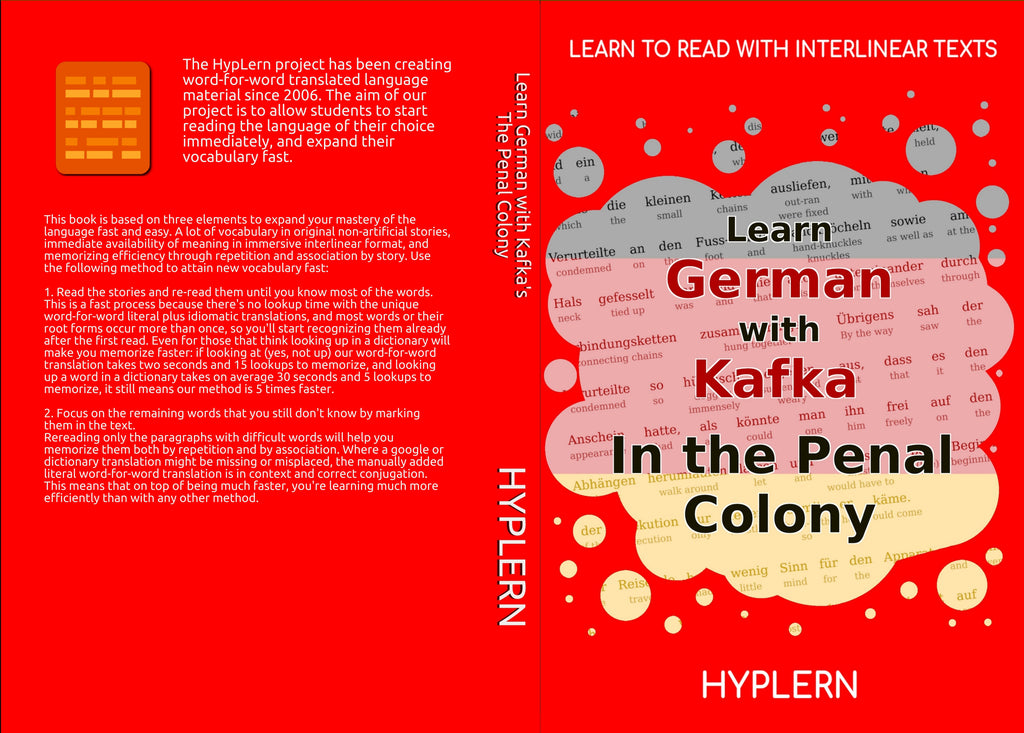 Find here on our site! You can find free audio for almost all of our books on the internet, on sites like litteratureaudio.com and Librivox. They have works from classic authors like Kafka or Theodor Storm. For your ease we compiled the free audio and offer them for free on our site as well. Check out all the mp3s now under the German collection, click the link above. We will add more soon. If you support us with a membership we can create more custom audio for all of our books. With your support we can create more interlinear language...
---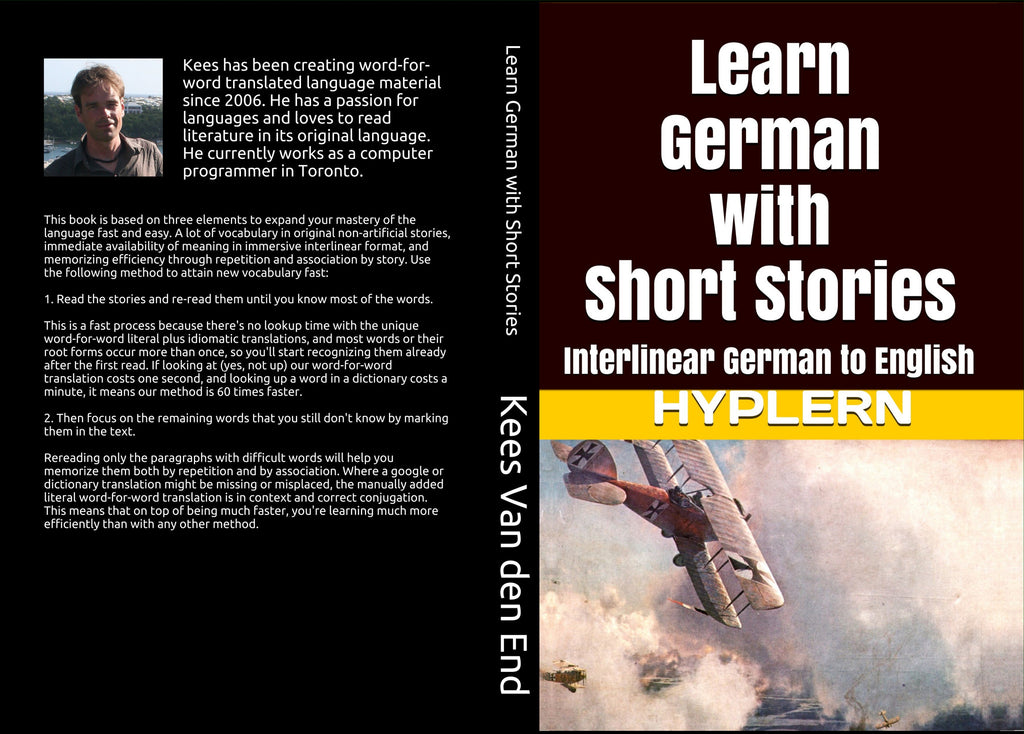 Learn German with Fairy Tales Interlinear word for word translations let you read German immersively without look up time. We created a post a while back listing the few interlinear translations available online. Now the HypLern eBooks we had are available as paperbacks as well on Amazon! The book Learn German with Fairy Tales offers the ultimate stories from German culture in word for word translated format enabling you to read them and understand all the words, this way expanding your vocabulary fast, helping you on your way to read German literature. Learn German with Short Stories One of the...
---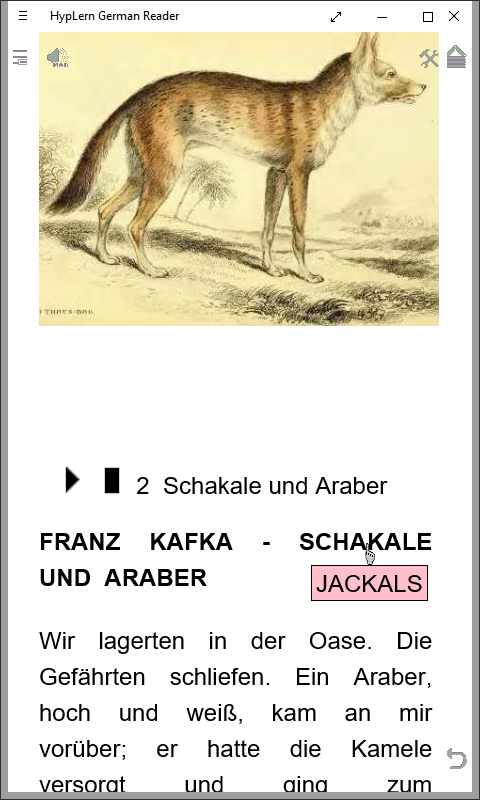 Now Available! The HypLern German Reader for Android or Windows! We're starting to upload the Apps for all languages into the App stores, a terribly long process as you may have noticed, and our third product available is the HypLern German Reader for Android or Windows, look for it in our German collection of products! You can also find the pdf+mp3 versions there for a less interactive format :) Here's a .gif video showing the new toggle between an interlinear format, our new pop-up interlinear version of the text, or the familiar pop-up: In the "My Words" section, word cards are directly linked...
---
Do You Want To Read German? Here's your chance. Read German Fairy Tales or Short Stories with every word having a mouse-over pop-up translation. Even with a small vocabulary it's easy to read the German text because of the fast and immersive translation. Check out our .gif video below and wait until it gets to the flash card list of my words. The question mark in the software allows you to see the sentence that the word is taken from.   Learn Vocabulary With Flash Cards The software calculates the number of times you have to practice new words by...
---
Bermuda Word German Fairy Tales Try Out Available Do you want to learn to read German? And you still think you will be able to do so using regular courses or graded readers? Think again. Save a lot of time by using Bermuda Word e-books. If you want to try out our product before buying, download the German Fairy Tales demo displayed in the catalog.   Learn to Read German Fast and Efficient! Download and check out the German Fairy Tales Demo and see how fast you can read through the pages and how easy it is to click any...
---
    Learn A Language By Reading The best way to learn a language is to read it. If you're short on vocab, that might be difficult. Unless, it's manually pop-up translated. No slow select-the-word-wait-and-see-half-translation, I mean immediate and correct pop-up translation. That will allow you to go through texts fast. Reading is the best way to learn new words as you encounter them as part of a story, which is the natural way for your brain to retain information. In fact, the "retention factor" also has to do with the number of times that new information is "met", and...
---
Want to Learn Reading in German? This weekend we put up the German Fairytales and German Short Stories products, with which you can start reading German with Fairytales or by reading Short Stories by Kafka or the Red Baron in German with English pop-up translation! Without trouble you can master about 4000 new words after finishing all the chapters of the German Fairytales and the German Short Stories products!     German Immersion Reading a book in a foreign language is the best immersion you can have. Dozens of words are being absorbed per page. Although reading in a new language can...