News — read spanish
Best way to learn Spanish with stories: 4.5 out of 5 stars! Do you want to learn Spanish with classic Spanish folk stories? It's easy with Spanish and interlinear English. 150+ pages with every word translated so you can keep on reading.This book contains fun and easy to read Spanish fairy and folk tales, and audio is available separately from the publishers site on shop.hyplern.com.We have added an interlinear translation to the Spanish text. This means that the meaning of every Spanish word is immediately accessible, which in turn will make it much easier for you to expand your Spanish vocabulary fast.Also...
---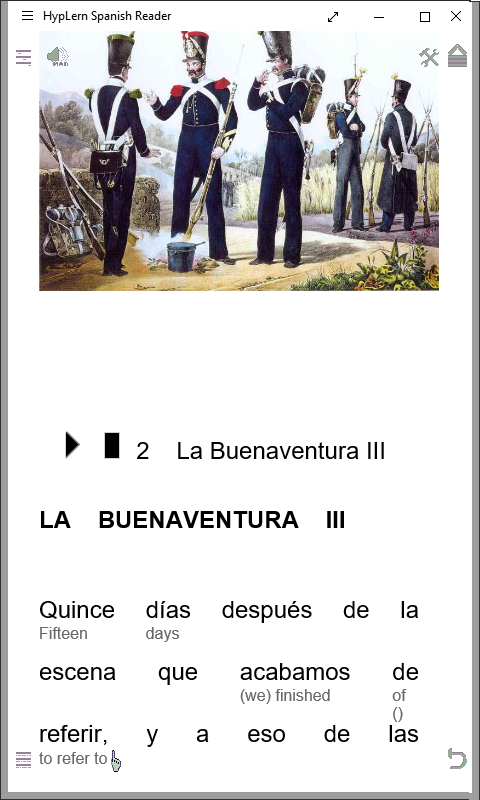 Now Available! The HypLern Spanish Reader for Android or Windows! We're starting to upload the Apps for all languages into the App stores, a terribly long process as you may have noticed, and our seventh product available is the HypLern Spanish Reader for Android or Windows, look for it in our Spanish collection of products! You can also find the pdf+mp3 versions there for a less interactive format :) Here are some pictures showing the new toggle between an interlinear format, our new pop-up interlinear version of the text, or the familiar pop-up:   In the "My Words" section, word cards are directly linked to their...
---
How To Learn Grammar Fast and Easy As argued before, grammar should be acquired, not learned. This doesn't mean you can ignore grammar, but studying grammar before experiencing the language is simply doing it the unnecessary hard way. It's good to have an idea of the grammatical components of Spanish before starting to read. That way you know what you can encounter. And when you start reading, and refer back to the grammar, you pick up the rules fast and easy. Like French or Italian (If That Helps) Spanish Grammar is similar to French grammar, which is also a Roman...